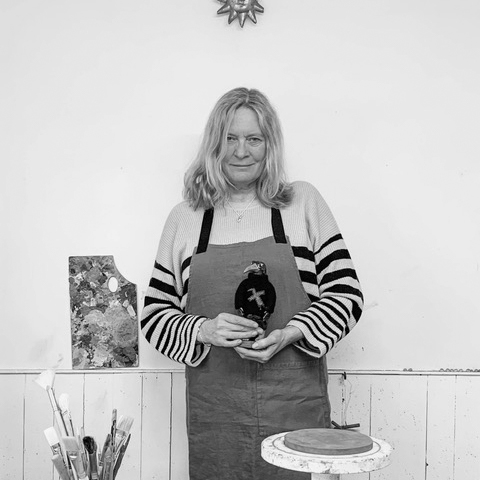 Gwen's curious creatures created in clay and clothed in cashmere, explore our relationship with animals and their anthropomorphism in childhood stories and fables, her menagerie evokes a sense of this nostalgia. Although primarily working in clay, Gwen saw no reason why she couldn't indulge her love of textiles in her pieces. "I see it as a perfect marriage of my two passions".
Gwen's first jumper wearing creation was a polar bear, which she sculpted standing on his hind legs in a 'fierce' pose. On a cold winter's day in the studio, she decided that he needed a little jumper. It made him look the exact opposite of fierce and Gwen immediately resolved to make jumpers for all her creatures.
Gwen has a Bachelor of Arts degree in ceramics from Cardiff School of Art & Design and a Post-graduate teaching qualification from the University of Exeter. She lives and works in Cornwall.